Small patios can be very attractive and welcoming spaces, you just have to use a little imagination when it comes to creating the illusion of space and in utilizing the area to its fullest. Create small but beautiful surrounding garden areas. Add a water feature and the ambiance of your small patio has been transformed to a private retreat.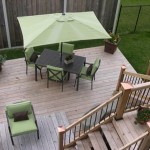 Create an Illusion
Small patios can be designed to create an illusion of space by opening up the area visually. Whether your patio is made of concrete, pavers, flagstone or brick, if you work with the surrounding area you will be able to make it appear larger than it really is by the use of one or two planting areas and a small dramatic focal point such as a statue, fountain or even a mini pond. These treatments will open up the area and give the illusion of space. The idea is to give the area not only a visual appearance of space but a feeling of openness.
If you have a wall that encloses the patio, it is creating a visual obstruction and you might want to consider taking it down or painting it in a light color–lighter colors create openness. One possibility if you do not want to take the wall down is to plant a climbing vine or rose bush (depending on how much sunlight this area gets) as this will soften the appearance of the wall and add color and life to your small patio area.
Think of a patio like an outdoor room or living space and treat it just as you would a small room in your house. Use those same interior decorating tactics for small spaces in your exterior room. Even doing something unconventional like adding an old mirror to a wall will create openness and act as a conversation piece.
De-clutter
Make sure your small patio is not cluttered. One large pot of flowers is better than several smaller pots of flowers. One large hurricane candle holder is better than cluttering the area with several small candle lanterns.
Think of adding a storage bench–not only will it store all of your garden tools but it will add seating and when you are using the patio, bright colored pillows placed on the bench will add an attractive warm touch to the decor.
Choose Your Patio Furniture Wisely
Since you are working with a small area be sure to choose your furniture wisely. Stay away from a patio set that will not leave any room for you to move around. A small wrought iron table and four chairs should be adequate for most occasions. Add a brightly colored patio umbrella to complete the ensemble.
If you want a nontraditional look, then you might want to have a coffee table with three or four chairs surrounding it. Or a garden bench, two chairs and a couple of side tables. Whatever your choice, remember you need to downsize when it comes to furniture to make that small space seem larger.
By Paula Ezop, eHow Contributor                                                                                                                                                                       Read more: Small Yard Patio Ideas | eHow.com http://www.ehow.com/way_5230793_small-yard-patio-ideas.html#ixzz1cevRoJUR