A garage floor has to be able to withstand a lot of punishment over the years, but regular concrete floors are notoriously weak in this regard, often settling unevenly or cracking over time. Epoxy garage floor coating is able to withstand stains from aids and fluid leaks, while concrete simply cannot do this. For the residents of Summerlin the concrete garage floors could be in jeopardy from shifts in the Earth's crust which will create dips and unevenness in the concrete floor. Concrete, just like slate, will become slippery when it comes into contact with water, leaving a dangerous surface. A water leak that impacts the floor in the same spot will lead to erosion over time, while chemical spills will also be able to produce damage to a concrete floor.
ArtCon, Inc. represents a company with a great reputation in Summerlin and is known as the best alternative out of all businesses that offer epoxy garage floor coating. With more than 16 years of experience, the company has been able to hone their skills and provide the top quality service. ArtCon. Inc. is in many was the model of total excellence that makes sure that their customer service, responsibility, and accountability are second to none. As experts in the domain of garage floor coatings, mainly those that use the epoxy solution, the company will be able to preserve a patio, garage, driveway, and garage equally well. ArtCon, Inc. provides durable solutions in the form of epoxy garage floor coating procedures, but also makes sure they are affordable and actually save money in the long run.
A coating made out of epoxy will result in a surface that is durable and which will last many years. Epoxy garage floor coating will make the same surface a lot more resisted to fire, heat, and impact, but also to slips and falls, making it a safer for any family. In Summerlin epoxy floor coatings offer a great level of beauty and appeal when they are applied to any home's driveway. Thanks to their composition, epoxy garage floor coatings are both friendly to the environment and very durable. An epoxy floor coating creates a surface that is resistant to alkali, water, and acids in equal measure, all of which would otherwise damage a regular concrete floor. ArtCon, Inc. solutions will also improve greatly an industrial facility thanks to the fact that epoxy reduces the wear on any transport vehicle and results in savings for any company that uses it.
ArtCon, Inc. will provide a completely free in-home estimate for their epoxy garage floor coating solutions in the Summerlin area. The estimates provided by the company last around 30 to 90 minutes, depending on the actual size of the property and the surface that will be coated. The estimate provided by the ArtCon, Inc. will be clearly determined and free from any hidden fees, meaning that it will become the final bill in the same form.
A floor that is about to receive the epoxy garage floor coating will be cleaned thoroughly in any location in Summerlin using a specialized surface grinder that will provide maximum adhesion. An epoxy coating can be a DIY process, but for anyone who wants to save themselves future worry and headache, hiring professionals from ArtCon, Inc. will provide a lot better results. With the use of specialized tools and cleaning accessories, the company will make sure that the coating is perfect the first time.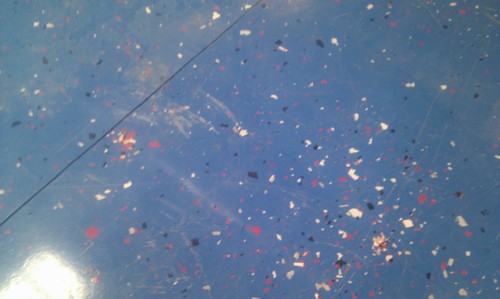 The company always utilizes only its trained and experienced professionals, while no additional subcontractors are included in the process of coating. Subcontractors and in general, day laborers are mostly unreliable which is why every job by ArtCon, Inc. in Summerlin will be taken care of by its professionals. The company is fully bonded, insured and licensed by the state of Nevada for any epoxy garage floor coating procedures.
A patio, driveway, pool deck or patio can really stand out in Summerlin with an application of an epoxy floor coating. A procedure that includes an epoxy garage floor coating can also be applied in other places like bathrooms, kitchens, entryways, entire rooms or hallways, all of which can all benefit from it. ArtCon, Inc. can apply epoxy floor coatings on casino walkways, businesses and building or warehouses employed for this purpose, making it useful in both residential and commercial settings. Epoxy coatings come in a very diverse selection of style choices and colors, covering metallic chips, regular color palette, glow, and neon, along with many other options.